Our line of dental products exists to keep your smile bright with minimal environmental impact.
Freshness that lasts, waste that doesn't.
Our 100% compostable silk and biodegradable charcoal flosses are infused with all-natural mint oil and packaged in reusable glass containers, which can be saved for TreeBird refills. Opt for silk for a more delicate sensation or charcoal for a deeper, more durable clean. Floss your way to a greener future!
Shop Floss
Made from the most sustainable stuff on Earth.
Have you heard of Moso bamboo? It's one of the fastest growing, most sustainable materials on the planet, and it's what we use to make our toothbrushes. They're smooth, durable, splinter-free, and come in a variety of playful colors for the whole family. A better smile and a better earth start here.
Shop Brushes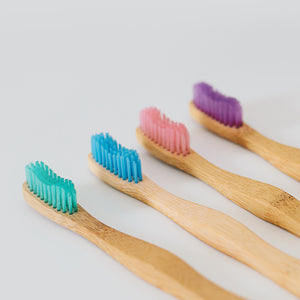 Plastic toothbrush handles take 400 years to decompose. Ours take about 6 months.
Check out this super informative review about our Pure Silk Eco Floss by Frenchie Powell - the founder and operator of Permaculture Northeast.
As Seen In